Hot Water Service
With so many types of a Hot Water Service on the market today it can be confusing as to what's best for you. Choosing well makes a big difference to your energy costs. Take advantage of our free advice – we can help you in selecting a unit that has the right balance between your hot water demands, required efficiency level and budget.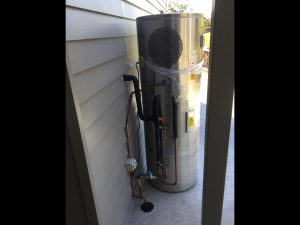 Emergency Hot Water
If You have an Emergency hot water issue we can help. Repairing your system or if needed replacement. Fast delivery from our suppliers means low waiting time to get things back up and running.
Emergency or not we are hot water system installers.
Burst or leaking cylinders can catch you by surprise. Having no hot water is something you can do without. When you call us for an Emergency hot water problem you jump the queue. We can connect the unit you have purchased or supply the unit you want. We are proud of the work we do and the rates we offer.
Tip! Many Hot water cylinders have an average life expectancy of 8-10 years. Depending on the type, simply changing the sacrificial anode you can extend its working life by many years!
With the right Advice better tanks can last 25 years or more. Let us help you with what you need to know.
---

---
Conventional Solar VS Solar Heat Pumps
Solar panels on your roof drawing energy from the sun are very effective and can provide enough hot water for your home without the need for boasting by other means of energy most of the time , Limitation of solar panels , your solar panel loses efficiency during winter months as the sun is lower in the sky and during times of bad weather where boasting my be needed adding to the running cost.
Heat pumps operate by a heat exchanger within a storage tank , in simple terms it's a modified reverse cycle air conditioner that can also be setup to run on of peak power , the heat pump can operate day and night and in colder temperatures , as low as -10 to -15 degrees . Limitations , heat pumps require the running of a fan which could disturb if it too close to a bedroom , but many systems have improved to a very low operating noise ,
Estimated Hot Water Service running cost per day by Quantum
Heat Pump
$0.90
Standard Solar
$1.15
Gas LPG
$3.25
Electric Storage
$3.40
Hot Water Plumber
Dickson Plumbing and Gas fitting have the experience in Hot water services and offer free quotes and advice. For further info on Quantum visit their website.