Heat Pumps / Hot Water Service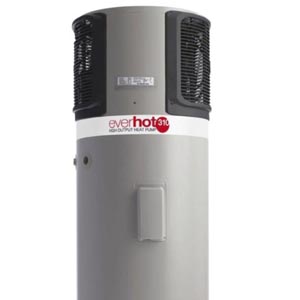 A heat pump is a little like a reverse Air conditioner. It transfers the heat in the air outside of the unit to the water stored inside the heater through a heat exchange system. In the case of heat pumps, "heat" is a relative term as they will still work in very cold conditions* – at least -10 degrees Celsius, so it will still be generating hot water for you during winter nights.
If you're looking for an energy efficient means of providing your home with hot water, the heat pump hot water systems supplied by STIEBEL ELTRON are the answer. Engineered by Germany's market leader, STIEBEL's hot water heat pumps harvest natural energy from the air to efficiently create hot water. Unlike solar systems, hot water heat pumps in Australia don't rely on a steady supply of sunlight in order to operate – instead, they work at all times of the day or night and in all weather conditions.
Heat Pump – Running Cost
Heat Pumps can be Cheaper to run then other hot water services and in most cases they can be cheaper to run buy then a solar hot water system on you roof.
Heat Pump Water Heaters
In Australia, HPWHs make up around 3 per cent of water heaters in use. At the time of the 2012 product profile there were approximately 18 brands and about 80 separate models of HPWH on the market in Australia, and 9 brands and 25 models in New Zealand.
What is a Heat Pump Water Heater?
Heat pump water heaters absorb warmth from the air and transfer it to heat water. Hence they are also referred to as 'air-source heat pumps'. They operate on electricity but are roughly three times more efficient than a conventional electric water heater. When used in the right environment they save energy, save money and reduce greenhouse gas emissions.
If you are considering buying a HPWH or are interested in more information, download our Heat Pump Water Heater household guide.
How does it work?
A heat pump works on the same principle as a refrigerator, but instead of pumping heat out of the fridge to keep it cool, they pump heat into the water. Electricity is used to pump a refrigerant through the system. The refrigerant transfers the heat absorbed through the air to the water in the tank.