WELCOME TO DICKSON PLUMBING & GASFITTING
Find Out
More About Us
If you are looking for an experienced and trusted Sunshine Coast Plumber and Gas Fitter, we welcome you. - Our Story
Dickson Plumbing and Gas Fitting offer our plumbing services for residential and commercials clients across the Sunshine Coast and North Brisbane region.
Some major services include, but are not limited to:
Gas Fitting

Hot Water Plumbing Services including an Emergency Hot Water Service

Plumbing Maintenance & Repairs

General Plumbing - Domestic & Commercial

Emergency Plumbing Call Outs

Plumber Services for Laundry, Kitchen & Bathroom Renovations
.. and much more.
20+Experience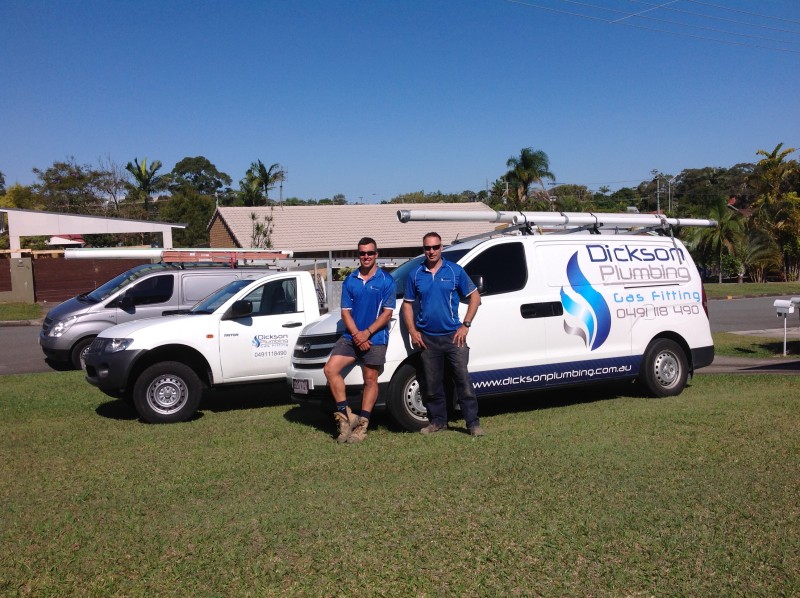 Our team has dedicated our entire working lives to ensuring we have the technical know-how to solve any problem. We have invested in new technology to fault find and diagnose problems faster and our staff has been trained to the highest standards.
Dickson Plumbing & Gas Fitting are very well versed at being Plumbers and Gas Fitters, but it doesn't stop there. We also provide a personalized service to each and every customer.
We want to make sure you are satisfied 200% every time so that you can be one of our 'proud' reviewers. Your happiness forms part of our payment so it is vital that you are happy.
We will call you if we are running late, we will clean up if we make a mess and we will make sure you are fully aware of any changes to your plumbing or gas needs.
Our plumbers don't just buy and install taps and fitout bathrooms and kitchens, we add value back to your home or work premises. We'll invest time to train you on any new device installed.
If you have any concerns over any of your plumbing or gas needs we urge you to seek the assistance of a fully qualified and insured company like ours to get you back on your feet. Being without gas or having a leaking toilet can be a major issue – we understand.
We follow current Qld Plumbing Laws as defined here.
View down our mobile services menu or call the team today.
Finding a Plumber Near Me on the Sunshine Coast is...
Gas fitting and appliances explained First thing to know about...
The Ultimate Hot Water Service Road Test By Shane Dickson...